How does one become "The Woman on the Mountain"? I think the important thing to know is that it is a "becoming"—a learning and growing that has brought Barbara over her 85 years to this clear and culminating time in her life. A couple of years ago she broke her leg, and last year she had three operations and pneumonia. These apparent misfortunes had a result that turned out to be beneficial: they kept her tied more closely to home as she recuperated.
The other day she was musing on how important those times had been, when she couldn't jump up and whiz off to town, or to the opera, or to many other lovely busy things she was accustomed to doing. This confinement provided the necessary and perfect vessel for the final alchemical reckoning with her life purpose. One feels from her a renewed, sparkling dedication to her communications with the elemental world, a clarity of priorities.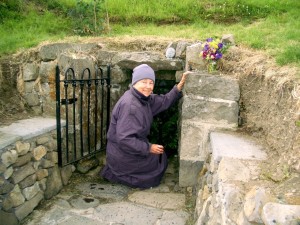 Barbara:  In 1979 I had an experience at a cairn in Ireland. I put my head against the entry stone and felt an energy exchange that lasted about 5 minutes. The message was, "When you turn 80, you'll start the second book of your life" (not the second chapter of a book, but the second book). I turned 80 in August 2007 and broke my leg in September. As soon as it happened I heard an inner voice say, "This is a gift, Barbara."
The urgency Barbara feels might invite us to skip right to the gnomes' teachings, but I'd like to hold off just a bit for a look at her life process—because it makes me feel more patient with my own.
Barbara has published parts of her personal story in several places. The blurb on the back of The Burned Woman, for example, talks about how she bicycled through Europe the first year the countryside was reopened after World War II and how for 50 years she and her husband Jim traveled the world, camping with their family and later visiting communities, spiritual centers and sacred sights. Then for 10 years they visited in people's homes throughout the world, teaching leadership and communication skills. All of these life events intrigue me, and I hope they will weave into the blog in relevant ways as time goes on—even though everything that happens to us is part of our becoming, and we're always having to choose what to include in any one story.  The "Rumi, Pay Homage" poem comes to mind:
If God said,
"Rumi, pay homage to everything
that has helped you enter my arms,"
there would not be one experience of my life,
not one thought, not one feeling,
not any act, I would not bow to.
Although the name Barbara means "child of nature," growing up in the heart of Los Angeles, surrounded by pavement and apartment buildings, virtually disconnected from the earth and her seasons, Barbara's only contact with angels, gnomes and elementals was in fairy tales.
Barbara:  Once in my late 20s a rare out-of-print book was sent to me. It contained pencil drawings of elemental faces that I thought were ugly. They made me think of the devil and scared me. I wrapped the book in paper and threw it in the trashcan, without finding out who sent it or reading any part of it.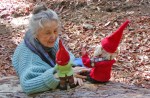 The gnomes managed to arouse my curiosity in the early 60s when I found a small gnome statue, one inch tall, in the park. Soon I found another one at the beach, and later one on the school playground. I put one of them on my kitchen sink and talked with him when I did dishes. They were beginning to get my attention.
Ten years later when, through "soft eye" vision, I began to see the elemental beings in my paintings, I started wondering. Later I met a woman who saw the non-physical world. As we walked in the woods she would tell me what the gnomes were doing. I couldn't see them, though I often felt their presence. I became a cautious believer.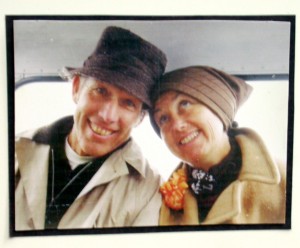 When Jim and I took the children to Europe in 1972 we visited Findhorn, a community of individuals in Scotland who were working consciously with the angels and elementals in their garden. I thought of these people as anchoring a "light of a New Age" on the planet and wanted to walk with my family through that light and consciousness. I now see this as one more way I was being guided to people who were working consciously with the non-physical intelligence of nature.
In 1983 I finally became a believer. Driving on Highway 5 near Coalinga, I saw that the smoke stack in the distance had formed a perfect classic gnome shape with glasses and book under his arm. I asked my cousin, "Katherine, what do you see in that smokestack?" She looked and replied, "It's a gnome, Barbara." That was the first time another person had seen what I did, and it allowed me to trust my own inner vision.
After making this contact things began moving very quickly. Two months later I was at a CFO (Camps Farthest Out, an inter-denominational Christian organization) in the Santa Cruz Mountains. A friend who came in for the day told me, "Barbara, they are going to sell the amphitheater and we will never get to use it again." The amphitheater is a sacred grove where the veil between worlds is very thin, and I loved being there. My inner voice said, "Buy it." I made a down payment on it the next day and closed escrow the following week on my birthday.
At the time I thought I was buying the amphitheater for some other group or person to use. I now say, "The amphitheater bought me." And my gnome teacher, Mano, has told me that, indeed, he was the one who said, "Buy it."