My soul path and spiritual practice is to interact with the subtle realms of nature. I feel the future of the planet calls for humanity to remember, recognize, respect and relate with the consciousness of nature, the angelic and elemental beings.
My wake-up call came when I first started painting. Gnomes and angels started appearing within the shapes that made up a mountain, a bowl of fruit and finally within the shapes of my abstract paintings. For over 40 years I have intentionally opened to the spirit world to paint the energies and stories that want to come forth.
I am delighted to share my "Glimpse Into Another Reality."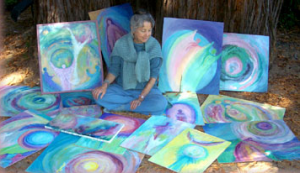 Paintings are for sale, unless otherwise indicated.
Please contact Barbara for prices.