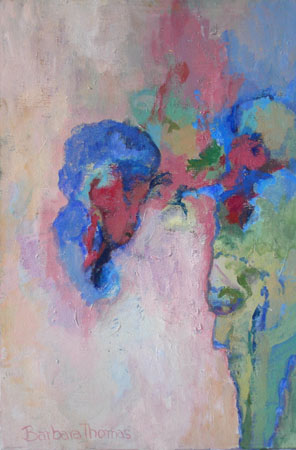 Recently I was exploring a new piece of land (a richly faceted place I'm in the process of moving to) and, without knowing where my steps would take me, I moved deeper and deeper into an expanse of Himalayan blackberries. Soon going back seemed more chancy than pursuing my original intent of coming round to the more tended area I already knew, and I was absorbed into this world of brambles, slowing myself down to a total concentration on the terrain. I slipped through rounded branch configurations interwoven with blackberries, knowing I was in another world and was not in control. The spines grabbed onto my sweater to get my attention, and I conversed with them, kindly requesting release. I asked for help from the Little Ones and found branches that served as oars and other, larger ones I could lay across the brambles as a sort of bridge to walk on. This dive into another world is where we are going now, into Barbara's notebooks, under the watchful eye of Mano, who sees what is needed and how to make our way there. These notebook entries span a number of years, but we will focus on content rather than on dates and what happened when.
Barbara writes:  I have walked to this amphitheater thousands of times. Each day as I entered the grove, I would lean into a beautiful redwood tree I call the Mother. One day I heard her say, "Tomorrow bring your laptop, sit on the ground with your back to my trunk, visualize a gnome in front of you, and write what you hear." When I was finished, she said, "Now come each morning until you leave for Europe."  I came every morning for the next three months.
This was the beginning of my adventure of being recorder of elemental messages. I have hundreds of pages of typewritten messages. Once Mano said, "Take the computer when you go to your studio and call council when you get there." That was the beginning of the Council of Gnomes. I established the habit of calling council each week when I worked in the studio. Sometimes Mano would make a special request for me to come to council.
"Notice how ideas come," he said. "You write them down, then together we build and refine them beyond your ability to receive. We both learn in the process. It is not that we in the gnome realm have this all together and are feeding it to you little by little. It is that we have the concept and know where we are going. We need your input to put it into words that make sense to you and then to your friends."
Over the years I have been told, "Keep refining the identity of your team. Each refinement is a jog in your memory, to what was before and what is taking place again." I have met and relate with three categories of gnome: master, teacher, and worker or companion. Mano, a master, came to council to teach me. He said, "Gnomes are the nature beings most closely associated with the earth. There are many levels of consciousness among us. We are in an evolutionary pattern of growth in the same manner as humans. We have different names for each degree of gnome consciousness. For you, the one word, 'gnome', is enough to name an earth being."
The council has a "speaking chair", and the one who sits there changes. "It is for you to begin to recognize us from our energy," Mano says, "and not just automatically call the one in the speaking chair by the name you have learned in the past. Soon you will be able to see what we wear. Each one who comes represents a different order of Faerie land. That is why we are a council of different ones coming together. We meet ahead of time to prepare our talks with you. We are adjusting our ranks to find the combination that works best for council with you. Many are participating in this project, watching from something similar to remote viewing on a TV screen. We watch our energy exchange as well as our conversation."
§ 2 Responses to Into the Council of Gnomes"