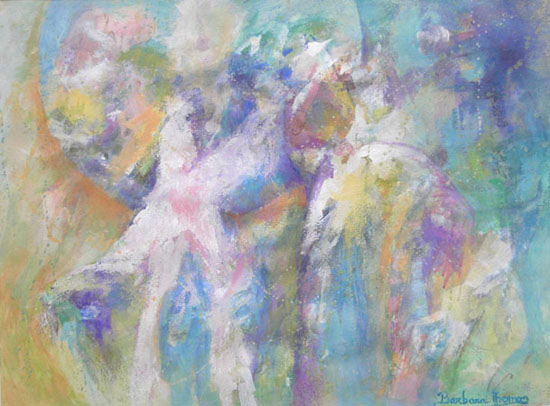 Really, when Julie and I drove to Ben Lomand to pay our respects to Barbara I didn't expect anything special to happen. I accept my slow trajectory and imagined I would just add a brick or two to the edifice, inching along to gnome recognition. But the weekend was more complex and quietly marvelous than that.
To carve a "space out of time", ritual is helpful, if not required, and so is the breathing in and out from group to individual, active to contemplative, reflective to expressive. Barbara reigned here, secure (by checking in with angel and nature spirits) in the forming of the chalice. Our sessions together in the cottage began with the stillness chant, which both grounded and lifted us. We drew angel cards. . . responsibility, obedience, integrity, gratitude, humor, brotherhood, joy grace. . . and at different times drew the same cards. Our meditative and discussion times mixed with the nourishment of wood fire, candle flame, ambrosia-like sipping chocolate, pleasurable food, naps, hot tub under full moon and redwoods.
On the first morning, no surprises, as Julie acquainted herself with the amphitheater and property and I renewed old ties. Neither of us had come with expectations. Julie had a sense when walking to the amphitheater that spirits were everywhere but did not see any. I was moved when, leaning back against a tall redwood, my head was suddenly accepted into its embrace, warm and soft. "Nurture yourself, carefully and with attention, and tell your brother to do that too," was the message. I have a family story about my just-older brother being sick when I was born and my grandmother coming over to hold me. From the beginning I somehow knew not to make demands or disturb, and soon everyone knew that I could take care of myself. Yet somewhere beneath all that confident pleasantness lies a yearning for deep comfort, sustaining nourishment.
Before going to bed we had a short mediation, and that was when the weekend escaped my "business as usual" scenario and became unusual. With her eyes closed in meditation, Julie suddenly could see them—a group of little ones rejoicing that they were finally visible (really, it must not happen very often). They faded in and out and spoke with her about the state of mind, or no-mind, she needs to be in to allow them to appear. She asked if they belonged to Barbara's land or would be assessable to her at home. They said, "We'll get there before you do!" Julie understood that the space she needed to be in to see the little gnomes was one she already knew from communicating with the Tahoe wild flowers; she was simply stretching it to include another category of extra-sensory beings.
We were all excited at this breakthrough AND I was sad not to be having a similar experience. "Well, stay in your own story," I told myself, "without envy or diminishing of confidence, without staying long in the odd-man-out deflation." I have a "knowing" that I honor and am working to develop, AND it seems like it would be so much more fun to see and hear more palpably. I especially envied the back-and-forth dialogue, since getting responses to my questions through the right-brained writing I use is when the "am I making this up?" question pokes its nose in most readily.
The next morning the little gnomes asked Julie to wear her skirt and nice top to the amphitheater to celebrate her new perception; I hadn't even brought along clothes that would signify joining the party! But after a good night's sleep I was re-grounded and ready to get down to the amphitheater with Barbara, who was going to formally introduce us to Mano. After poring through the notebooks for the blog, I had developed a warm affection for him but was not sure it would be appropriate to work with him directly. And although the kindly giant madrones in the amphitheater had told Julie to ask for the introduction, she too was a little hesitant.
Barbara immediately had a picture of what to do. We lined up three chairs with a short bench in front. She began to laugh, saying that Mano was already right there on the bench, with a semi-circle of other gnome elders standing behind him. Through Barbara Mano assured me that I was doing just fine and reminded me that he had chosen me to do this work. Julie could describe what he was wearing (red hat, green jacket, yellow trousers) and had a conversation. She said his eyes were full of kindness when she asked him to be the grandfather she had always longed for.
Clearly we access these other realms from our own ancestoral, cultural and experiential orientations. Someone was talking to me the other day about being part of a group that had contact with aliens (his experience was a little like mine with the gnomes—no bells and whistles). I inwardly ducked a little—aliens!—and then figured that many of my friends may be doing the same when I mention the gnomes. We're more open to a configuration that we're used to or have heard about enough times to dull the edges of skepticism.
That day my communication from Mano went like this: Don't doubt yourself; be patient. Keep working as if you know; practice imagination as if you can see. Come at it through the back door. Trick yourself a little, laugh at yourself more, be delighted. Your way is to be light and airy, even to bring your serious messages with lightness. Do not fear what others will think, even other elementals. It will all come round right. Remember the Shaker hymn "Tis a gift to be simple, tis a gift to be free, tis a gift to come round where you ought to be."
§ 2 Responses to How They Come to Us by Mary Jane Di Piero"