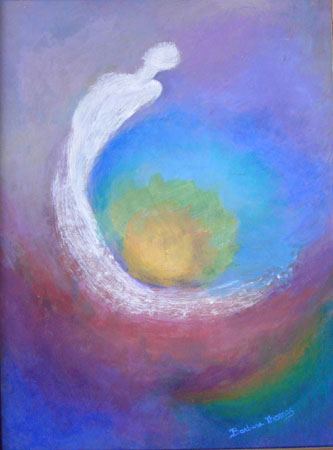 Tanis Helliwell, in Summer with the Leprechauns, writes that she rented a cottage in the west of Ireland with the intention of staying there until she reached enlightenment. She was immediately engaged and subsequently re-routed in her goal by a leprechaun gentleman, Lloyd, whose intention was to find out about her as she already was. At one point he tells her how, as a young leprechaun, a human being had come to his realm asking for volunteers to connect with and learn about humans—a need for reconnection and collaboration that was becoming more and more critical (this encounter must have been about 100 years ago). Lloyd volunteered, and when Helliwell thought to ask him who the human was, he said "Rudolf Steiner".
The idea of asking for volunteers caught my attention, and the picture of Steiner, founder of Waldorf education, making the contact amused me enormously. Barbara writes about this sense of volunteering: "When I was 30, I heard a prophecy that angels and humans would walk side by side in the next Golden Age and that they would need human volunteers to do this. I offered myself and prayed to be called on. Now I see that I and the gnomes I relate with have all volunteered for this experiment and service, to learn how to be aware of each other, relate and co-create."
When my friend Julie and I visited Barbara a few weeks ago, one of my strongest impressions was how dedicated Barbara is to this work and how clear she is that it's her purpose in life. She has developed a rhythm of contact with the elemental world, awakening at 3 am, listening to the ascended master material as a priming, setting intentions and working with the Tarot before she begins her busy day. (She loves working with all kinds of oracles and we used angel cards before each of our discussions, which, as simple as they are, helped us build an orientation and form for our work.)
This purity of heart and intention is something Barbara grew toward through the years, and her notebooks are speckled with experiences like the following. "One time," she writes, "I got very busy and forgot my connection for months. When I remembered I felt awful and told them, 'I am so sorry I have been careless with this amazing connection. I am afraid I have only thought of it from my own perspective. I have not thought of it as a commitment to keep connected, or that you are depending on me. I deeply apologize.'"
The response from the other side is often something like this: "We are observing your process on the screen of your mind. This is always available to us; it is like a large movie screen. You gave permission long ago for spirit beings to observe your process as a human unfolding and remembering the spirit world."
"What you are experiencing is what we see over and over with humans. You lose consciousness of the reality of our connection. It becomes a lark, or hobby. We want you to reconsider what we actually are doing here and look again at your part and your commitment. We are to work together, to co-create. You volunteered for this before birth and again consciously in the 60s when you heard that spirit might need humans to volunteer their lives to serve the greater whole and allow spirit to use them."
"We are building a bridge between nature and human. We are focusing on the evolution of the planet by calling the human counterpart to task and consciousness. It is our need to speak with humans so the words we speak will flow into a human mind and then into the human mental field."
One more example is when Barbara notes that her counselor has not been present for her in the amphitheater. "I feel disconnected," she says. "I have not connected with the council, not given my attention to the companions. And just now I came to you and started writing before tuning in and lighting the candle. I keep wondering, 'Is this connection part of my world service and I am not doing it?'"
Rama replies: "Your presence, Barbara, with all of your strengths and weaknesses, is your world service. Your life is an open book in the school of preparing to enter for service. You are a classroom subject here in our school of preparation. Your struggles, questioning and forgetting are all a source of wonder to the students and a determination that they will do it differently when they have their opportunity to come to earth."
Well, after our weekend among the gnome vibrations, I have a strange intuition that this blog, this involvement with Barbara, is one of my own life's tasks. It would be very odd, still, to feel that these elementals were scrutinizing my every thought and action in order to learn "humanness" with all of its foibles and strivings. I admire that Barbara has opened herself up so graciously and completely in their warm-hearted laboratory.
"It's about the planetary shift," she said on this visit. "We have a destiny to work together; the nature spirits promised to wake me up and I promised to disseminate their information. Mary Jane made a promise in there somewhere too."
§ One Response to Becoming a Volunteer