All have been affected by the Burning Times of the Middle Ages. The residue left within human consciousness when millions of women were killed for being herbalists, healers, midwives, mystics and freedom thinkers, has left many women fearful to speak their truth and be their authentic selves.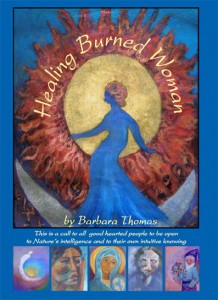 This deeply moving workshop is based on a beautiful DVD presentation of the poetic and illustrated book "Burned Woman" by Barbara Thomas. We will gently look at our inner wisdom. It is time for the feminine, creative aspects of self to be freed, for all of us to wake up, to stand in our power, to heal self, humanity and the earth.
Barbara Thomas embodies a wide space of worlds and time. To know her is to glimpse some of the evolution of women. As an artist, her life flows with color and rhythm, people and dance, Nature and Angels, meditation and learning. With husband Jim she has traveled extensively, seeing and experiencing sacred and holy places and activities. Barbara brings the ancient past into present activity. She expands the Mystery of "Who are we?" with all that has been, opening the widest view of what we shall be, and makes it fun.
Where: The College of Botanical Healing Arts
1821 17th Avenue, Santa Cruz, CA 95062
When: Sunday, October 13, 12 – 4 pm
How much: $50
To register: call 831-462-1807 or  email cobhasantacruz@gmail.com